Is U.S. election fraud across ±3,140 counties happenstance; the result of opportunistic criminals taking advantage of taxpayers—or is U.S. election fraud a long-term subversive strategy?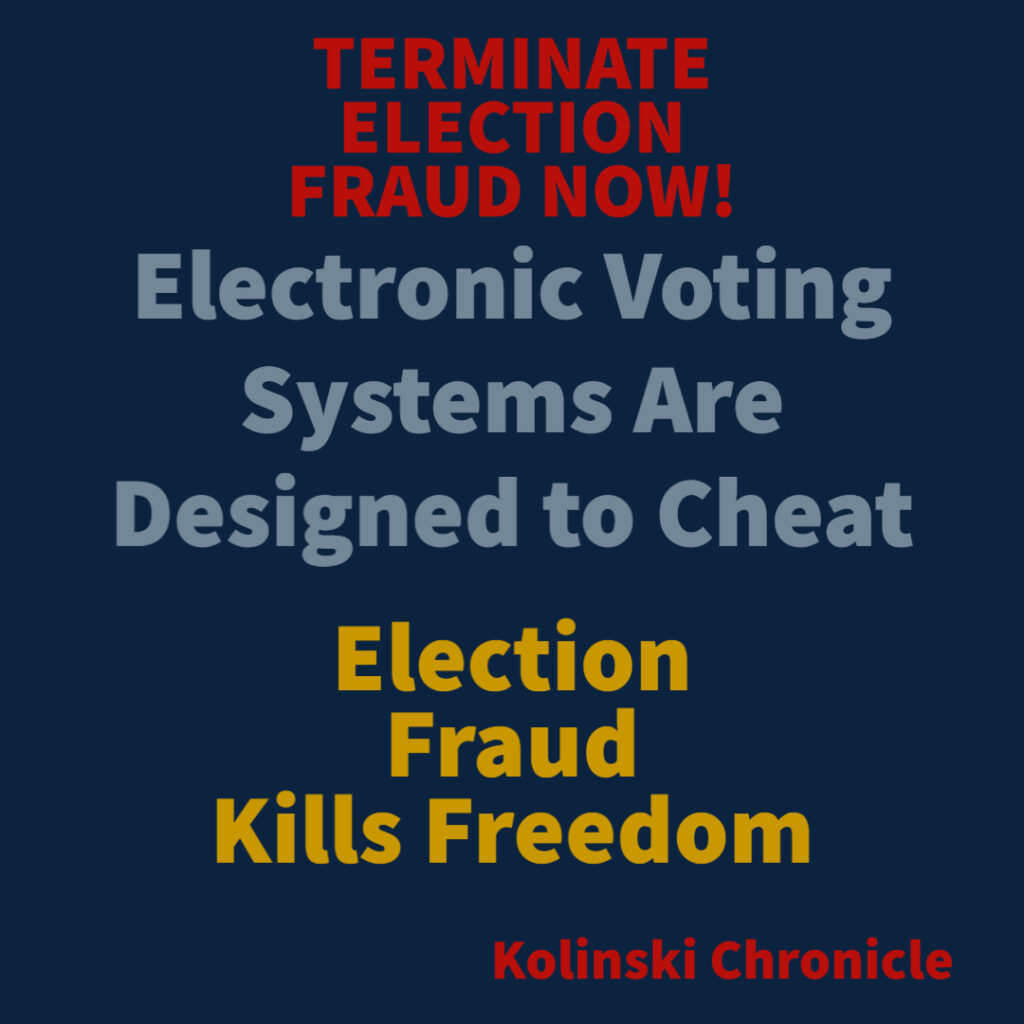 The 26th Amendment, Section 1, ratified on July 1, 1971, states: "The right of citizens of the United States, who are eighteen years of age or older, to vote shall not be denied or abridged by the United States or by any State on account of age." I turned eighteen in 1969, so cast my first Presidential vote in 1972 for George McGovern, who to my young delight was at political war with J. Edgar Hoover's already corrupt FBI. Aside from notorious musings about Chicago's Daley Machine, Louisiana Scandals, New Jersy racketeering, New York's Tammany Hall, and Pennsylvania political antics, election fraud seemed a minor thing, never appearing on my fruited plain radar.
Florida's 2000 electoral Chad Circus did make my radar screen, not due to the fact of election fraud, but because obsessive Mockingbird media parrots squawked 24/7 not about fraud, but about despicable ballots. Ballots are inanimate objects. Why was the focus on ballot hatred? Why by the fall of 2002, were Secretaries of State like Georgia's Cathy Cox and dozens of highly paid pundits suddenly arguing, apparently on behalf of Diebold and other companies that only touch-screen technology could secure elections? From an engineering standpoint, this made no logical sense. How could an invisible electronic voting system be trusted to secure anything? How could an audit be conducted? Who could even perform the audit?
Anyway, I lead a heat-sheltered life deep in the Sonoran Desert, so it feels a bit like Electronic Voting didn't popularly erupt as election narrative until 2016 or so, when Russia, Russia, Russia, and career criminal Hillary's disappointment broke fallen angel hearts. Despite my own lack of attention, Electronic Voting Systems have been in development since the 1970s, becoming increasingly sophisticated over the past half-century. I am a technology fan, but don't view election technology as a good thing. Bad people quickly began doing bad things with this technology and these machines while responsible adults were AWOL from the technical playroom. United States' voters are being duped by a Globalist UNIPARTY comprised of America hating Neo-Marxist Democrats, working in concert with Fascist Establishment Republicans. This is a life-threatening combination as we've seen through COVID lockdowns, toxic JABs, and non-treatment of ill hospital patients—to name just three proofs. The UNIPARTY wreaked this havoc and the UNIPARTY adores Electronic Voting Systems—therefore, we should ask, "what is the UNIPARTY?"
The worker's Democrat Party of old degenerated into a 100% united MONEY TRUST darling hellbent on financially and technologically enslaving the entire planet. The once anti-slavery Republican Party is at war with itself. The Establishment Ruling Class side aligns with Cultural Marxist Democrat depravity. These two treasonous groups—Marxist Democrats and Establishment Republicans are the UNIPARTY.
The UNIPARTY is owned and operated by the global syndicate, i.e., the CARTEL, the MONEY TRUST, or whatever we wish to call this malignant cabal. Wall Street (New York), Lombard Street (London), and Silicon Valley, along with WOKE military leadership around the world are primary enslavement tools for bringing about destruction of all civil rights such as, freedom of assembly, free speech, education, property ownership, free trade, unrestricted travel, healthy nutrition, competent medical services, and so forth.
The MAGA America First side aligns with Main Street humanity in a growing world-wide populist movement intent on removing Satanically influenced One World Government criminals from power, while re-establishing our relationship with our Creator. Our 21st century populist movement, of which America First is an integral part, is all that stands between global transhuman slavery through entrainment and other means. Election fraud in the hands of UNLIMITED GOVERNMENT can and is stopping our freedom movement from re-establishing Constitutionally recognized God-given rights in the U.S, as well as strangling freedom across the globe.
United States Voters should realize using Electronic Voting Systems including Electronic Poll Books—especially Poll Books integrated with centralized ERIC, Inc. data bases, PRECLUDE the ability of election management staff, election workers, and election observers from auditing or even observing what happens inside proprietary electronic systems. Since audit trails are erased as voter rolls are changed or as tabulation manipulation occurs, election workers cannot even verify when the cheating happened, who did the cheating, nor from what local or remote location voter roll adjustments or tabulation changes were made. Electronic Voting Systems cannot be secured. Hard stop!
Election workers have no opportunity to effectively monitor proprietary election software or hardware. A thousand or so highly trained election workers standing around a tabulator cannot see anything happening inside the machine, nor inside remote machines it may be connected to. Even worse, most election workers and observers are not highly trained technicians and could not recognize an installed wireless modem if they were looking at it. The predictable result is that testing, and certification of electronic voting systems simply assures software and hardware can accurately, quickly, and invisibly add, subtract, or flip tabulation results via local or remote control. These cheat machines can also function honestly but are rarely used for that.
Evidence has been publicly available for two decades proving Electronic Voting Systems are designed from the ground up to be operated and controlled remotely and/or locally. It has been proven repeatedly by independent technical analysis over the past two decades that programming adjustments can be made invisibly via direct or wireless computer system servers, system workstations, tabulators, direct internet connection, wireless internet connection, Smartphone access, USB port, Sting Ray, DRT Box, other IMSI-catcher technology, QR codes on tabulated ballots, and I suppose other means.
In view of this readily available information, the fact that elected representatives holding office or appointed agency staff at any level of government ignore or enable this brazen criminal behavior for any reason is indefensible and not acceptable. Electronic Election System Ignorance in 2023 is not bliss. 2023 Election system ignorance is cowardice, negligence, or criminality.
American elections are 99% centralized (a few counties do not use electronic systems) by using similar software and hardware created, manufactured, and integrated by a small monopoly of certified companies. Use of the centralized ERIC, Inc. system further centralizes ease of access into and out of demographic record keeping databases. Such demographic information is useful for fine tuning electronic voting system algorithms calculating votes instead of just counting votes.
Why do we need Math and I.T. Ph.Ds. to count 1, 2, 3, 4, etc.? Most 2-year-olds can count to 10 without difficulty. For example, in Nevada's 2022 Clark and Washoe County elections, Edward Solomon found:
"The result of this investigation reveals that a Vector Manifold Formula was applied across all the precincts in both counties. This Vector Manifold Formula rigs the elections of four races simultaneously, treating each like-ratio of the four different races at each precinct as a quaternionic vector. This feat could only be accomplished by a HVNN (Hypercomplex Valued Neural Network)."
Here's a link: https://docs.google.com/document/d/1SCgXpvHwfHJN0T-DdERC3NUQbMlMhOWmRfFjnJs0Ui8/edit
Note: Adding one paper ballot to another paper ballot does not require the use of 6th, 7th, or higher degree equations. Complicated math equations used in Tabulator software are designed to cheat—not to count.
The idea that United States elections are decentralized and difficult to rig because America has more than 3,100 counties is childish and dangerous to liberty. Our American republic is owned by its sovereign citizens. As sovereign citizens we "LOAN" authority to representative officials to govern on our behalf with our consent. The U.S. Constitution does not grant authority to elected nor appointed officials to without consent of the governed, steal, or in any way abrogate the recognized God-given Right of American voters to determine the course of the republic they own. We own our elections.
I've begun to realize that U.S. election fraud on a nationwide level is not a recent thing. What I mistakenly thought was opportunistic happenstance is a global syndicate long-term plan to disenfranchise American voters as just one more weapon in the arsenal of unrestricted, Fifth Generation Warfare. I do not know how old this plan is, but clearly, it's been PROGRESSING (pun intended) at least since 1993. In other words, voting rights of America's productive middle-class have been under incrementally relentless direct attack for at least three decades.
As Professor Jordan Peterson has so eloquently mentioned, we should pay attention. Anyway, here is a summary timetable of events and activities leading up to today's ALL OUT ASSAULT against voting rights. This timetable is by no means exhaustive.
♦TIMETABLE♦
1993
•National Voter Registration Act of 1993
(also known as the Federal Moter-Voter Law)
This bill, among other things, related national MVD data bases with County Voter Registration data bases.
Note: Section 7 of the Act ALSO requires states to offer voter registration opportunities at all offices providing public assistance and all offices that provide state-funded programs primarily engaged in providing services to persons with disabilities. All applicants for any of these services, renewal of services, or address changes MUST be provided with a voter registration form as well as assistance in completing the form and submitting the application to local election officials. (See Appendix at end of article.)
…Must be provided with forms as well as ASSISTANCE??? Outside of disabled people—why is this fraud enabling language included in this legislation?
2000
•Fat Chads, Hanging Chads, and Pregnant Chad controversy. Credible or not, this propagandized Chad Circus launched a Mockingbird media crusade for popular acceptance of Electronic Voting Systems.
2002
•Electronic Election System Fraud Accelerates
•Bev Harris discovers 40,000 voting machine files on the internet. Less than 2-years after the Chad Circus we learned ES&S systems flipped the Alabama Governor's race, famously introducing the pseudonym "glitch" into election vernacular to distract from more accurate terms like vote rigging, vote tampering, etc.
•Electronic Voting System problems are documented across the U.S., with many, like Arizona, since even before 2000. Refer to: 1994 Oro Valley issues in Pima County—not sure what machines were in use; 1998 Global Election Systems (now Diebold) issues also found in Pima County, AZ.
2003
•Bev Harris started Black Box Voting.org with its website in 2003.
https://blackboxvoting.org/
2004
•Bev Harris published: Black Box Voting: Ballot Tampering in the 21st Century (2004)
2012
•The Electronic Registration Information Center (ERIC, Inc) System was created in 2012, initially contracting with seven (7) states. ERIC, at last count, was still contracted with 25 states, though in 2022-2023, Alabama, Florida, Iowa, Louisiana, Missouri, Ohio, Virginia, and West Virginia abandoned the system, so I'm not sure about current state membership.
https://ericstates.org/about/
•ERIC, Inc. maintains four (4) data bases for member states I am aware of.
1. Voter Registration Records
2. Motor Vehicle Department Data
3. Social Security Administration Death Records
4. United States Postal Service Address Data
Sorry, but this is an elevated level of data centralization, convenient or not.
2016—Current
•A short list of Election Objectors Not Indicted for objecting to election results: Stacey Abrams, Joe Biden, Anthony Brindisi, Cory Booker, Barbara Boxer, Corrine Brown, Sherrod Brown, Jimmy Carter, Al Gore, William Lacy Clay, Hillary Clinton, James Clyburn, Danny Davis, Howard Dean, Dick Durbin, Dianne Feinstein, Marcia Fudge, Andrew Gillum, Raul Grijalva, Tom Harkin, Kamala Harris, Rita Hart, Alcee Hastings, Eric Holder, Rev. Jesse Jackson, Sr., Pramila Jayapal, Stephanie Tubbs Jones, Robert F. Kennedy, Jr., Ted Kennedy (RIP), John Kerry, Ron Klain, Dennis Kucinich, Barbara Lee, Sheila Jackson Lee, Ted Lieu, John Lewis (RIP), Eddie Bernice Johnson, Ed Markey, Terry McAuliffe, Jim McGovern, Cynthia McKinney, Jerrold Nadler, Nancie Pelosi, Karine Jean-Pierre, Jamie Raskin, Harry Reid, Cedric Richmond, Bernie Sanders, Jan Schakowsky, Debbie Wasserman Schultz, Chuck Schumer, Jamal Simons, Bennie Thompson, Chris Van Hollen, Elizabeth Warren, and Maxine Waters.
•Bev Harris releases video titled FRACTION MAGIC-Detailed Vote Rigging Demonstration.
https://blackboxvoting.org/fraction-magic-video/
This video shows how more than 5,000 contractors & middlemen have access to real-time voter data bases, electronic voting systems, voter rolls, and multiple jurisdictions—all simultaneously. Does this look de-centralized?
2023
•Currently, the United States Electronic Assistance Commission (EAC) registers and certifies manufacturers of electronic voting systems in the U.S. Not all registered companies are certified.
https://www.eac.gov/voting-equipment/registered-manufacturers
•To date, well documented Electronic Voting System concerns have surfaced in Alabama, Arizona, Arkansas, California, Florida, Georgia, Hawaii, Illinois, Indiana, Iowa, Kansas, Michigan, Nebraska, Nevada, North Carolina, Oklahoma, Ohio, Pennsylvania, Texas, Utah, Wisconsin, to name 21 states.
•Packet capture metadata gathered since November 2020 show Electronic Election System fraud in every U.S. County using Electronic Voting Systems—no exceptions I'm aware of.
•Questioning honesty of elections in now criminalized across many U.S. jurisdictions.
♣
Educational Links to Relevant Election Result Information:
https://rumble.com/v36e7zs-11-august-2023-am-show-edward-solomon.html
Edward Solomon interviewed by Joe Oltmann explaining how the algorithm math works.
https://docs.google.com/document/d/1SCgXpvHwfHJN0T-DdERC3NUQbMlMhOWmRfFjnJs0Ui8/edit#heading=h.lty23tl914ct
April 29, 2023—Edward Solomon's detailed explanation of the math used in Nevada's Clark and Washoe County 2020 and 2022 elections.
https://www.youtube.com/watch?v=v_liXxu0XL8
About a year old, Dr. Shiva explains Maricopa County ballot signature issues.
https://www.youtube.com/watch?v=Fob-AGgZn44&t=3s Fraction Magic video by Bev Harris.
https://rumble.com/v2gagxg-show-this-video-to-your-country-officials-machine-rigging-exposed-in-90-min.html Mark Cook presentation on Conservative Daily with Joe Oltman and panel of five.
https://thebiglie.frankspeech.com/US/thebiglie/index.html Nov. 2020 Metadata per Frankspeech.
https://thebiglie.frankspeech.com/ARIZONA/index.html Frankspeech Nov. 2020 Arizona results
♣
Article Appendix:
National Voter Registration Act of 1993: SEC. 7. VOTER REGISTRATION AGENCIES.
(a) DESIGNATION.
(1) Each State shall designate agencies for the registration of voters in elections for Federal office.
(2) Each State shall designate as voter registration agencies— (A) all offices in the State that provide public assistance; and (B) all offices in the State that provide State-funded programs primarily engaged in providing services to persons with disabilities.
(3XA) In addition to voter registration agencies designated under paragraph (2), each State shall designate other offices within the State as voter registration agencies.
(B) Voter registration agencies designated under subparagraph (A) may include— (i) State or local government offices such as public libraries, public schools, offices of city and county clerks (including marriage license bureaus), fishing and hunting license bureaus, government revenue offices, unemployment compensation offices, and offices not described in paragraph (2XB) that provide services to persons with disabilities; and (ii) Federal and nongovernmental offices, with the agreement of such offices
(4XA) At each voter registration agency, the following services shall be made available: (i) Distribution of mail voter registration application forms in accordance with paragraph (6). (ii) Assistance to applicants in completing voter registration application forms unless the applicant refuses such assistance. PUBLIC LAW 103-31—MAY 20, 1993 107 STAT. 81 (iii) Acceptance of completed voter registration application forms for transmittal to the appropriate State election official
(B) If a voter registration agency designated under paragraph (2XB) provides services to a person with a disability at the person's home, the agency shall provide the services described in subparagraph (A) at the person's home.